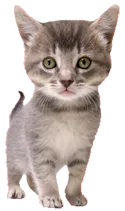 Always Accepting New Patients
We're pleased to offer the following services in our Seattle Veterinary Clinic:

Emergency Services
New Puppy/Kitten Exams
Wellness Exams
Vaccinations
Dentals
X-rays
Ultrasounds
Various Surgical Procedures
Spay/Neuter
Non-Anesthetic Dentals
Euthanasia - In Office or In Home (Call for Availability and Scheduling)
Cold Laser Therapy
Diagnostics
Appointments
Our receptionists and team will attempt to accommodate all requests to the best of our ability. We are open for scheduled appointments from:
Monday to Friday: 9am - 6pm
Saturday: 9am - 3pm
Maple Leaf Pet Corner accepts payment via cash, check, all major credit cards, Venmo and Scratch Pay. So that we can continue to provide you high quality service utilizing the best medical technologies, we request that payment be made at the time services are rendered.
We provide estimates for all surgeries and hospitalizations. If you have not received an estimate, you are welcome to request one at any time for your expected charges.